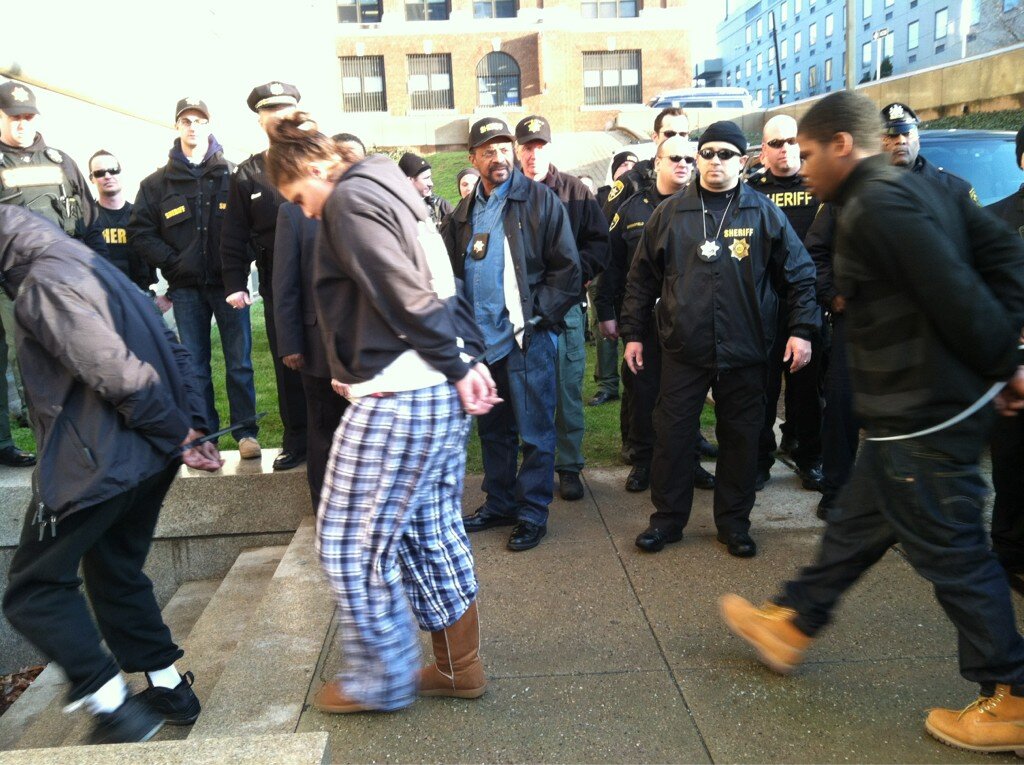 No sweet love and kisses here. Cops woke up 22 fugitives this morning with hand shackles and a ride to jail.
In their 16th annual, predawn Valentine's Day warrant sweep, more than 50 cops fanned out across Philadelphia and its surrounding counties in search of about 300 fugitives wanted on warrants for offenses big and small. They caught 22 of them in the five-hour sweep and hauled them in to Family Court for processing.
"I'm an Afghanistan veteran. Thanks, America!" a shackled fugitive barked at reporters on his way into courthouse. Another shouted expletives at news photographers.
But Philadelphia Sheriff Jewell Williams had little sympathy for the nabbed fugitives, who will get no roses or candy on this day celebrating sweethearts.
"They'll be eating cheese sandwiches today," Williams said. Fugitives "creep around like little rats so they don't get caught. But today, we have taken some bad guys off the street."
Williams noted that his office organizes the sweep every year on Valentine's Day, so "it would seem to me these people should know we're coming."
The fugitives caught were wanted for crimes including robbery, theft, driving under the influence, failure to pay child support and failure to appear in court, Williams said. Sheriff's deputies and other officers from Philadelphia, Bucks, Chester, Delaware and Montgomery counties and Pennsylvania State Police troopers participated in the sweep.
Williams urged fugitives to turn themselves in. Tipsters who know of any fugitives' whereabouts can call deputies at (215) 686-3578.
---
Reported by Dana DiFilippo for the Daily News on February 14, 2013.
PHILADELPHIA, Pa. - February 14, 2013 (WPVI) -- The Philadelphia Sheriff's Office, along with other city and regional police agencies, rounded up dozens of suspects in a Valentine's Day warrant sweep.

The Action Cam was there early Thursday morning as police went to various homes in the city in search of the fugitives.

The suspects were wanted for everything from attempted murder, domestic violence, failure to pay child support and other crimes.

In all, nearly 300 people were targeted in the sweep.

The sweep is a Valentine's Day tradition for the sheriff's office, which has been conducted for 16 years.

---

PHILADELPHIA (CBS) — Twenty-two people are in custody today after an early morning sweep by the Philadelphia sheriff's department for parents who haven't paid child support.

But the sweep netted more than that.

Sheriff Jewell Williams says the sweep started about 2am and wrapped up five hours later. But instead of using just Philadelphia records, he says, the sweep included the surrounding counties using state police records.

"We found that there were other outstanding warrants — for burglary, robbery, theft, receiving stolen property, aggravated assault, simple assault," he tells KYW Newsradio, "and we just included those other counties, and we found that we had people who were wanted for more than just not paying child support."

Williams says some will have to serve time behind bars because they violated the child support agreement. And he says with apparent satisfaction that those who committed additional crimes will also be off the streets.

---

The tragic killing of three people in the lobby of the New Castle Co. Courthouse in Wilmington, Del. is something the Office of the Sheriff of Philadelphia City and County tries actively to prevent, said Sheriff Jewell Williams.

Sheriff Williams said, "First of all, I want to offer my condolences and prayers to the families of those killed as well as those wounded in this horrific incident."

He then stated, "The security and safety of the general public, judges, witnesses, defendants and the accused at the Criminal Justice Center, Traffic Court and Family Court here in Philadelphia are all our responsibility and we are constantly training our Deputy Sheriffs and reviewing our security at each."

"Unfortunately, when someone with a gun is determined to use it, such a scenario is a challenge for even the best security," he added.

The shootings in Wilmington occurred in the lobby of the county court house prior to people going through the metal detector. The lobby of the Criminal Justice Center in Philadelphia is constantly monitored by uniformed personnel who are trained to respond in an "active shooter" scenario.

"We expect to have a bike patrol (two) outside the perimeter of the CJC in a few days, and though we are down in personnel overall, we will continue to keep a uniformed presence in the outer perimeter of the building," added Sheriff Williams.

---

Published by the Philadelphia Public Record on February 14, 2013.

December 12, Philadelphia--Ana Sostre-Ramos, Director of Hispanic Community Affairs in the Office of the Philadelphia Sheriff has been named one of the 2012 Delaware Valley's Most Influential Latinos by the Delaware Valley's Most Influential Latinos Foundation.

Deputy Sostre-Ramos joined the Office of the Sheriff, City and County of Philadelphia, in 1989 as a Special Deputy originally assigned security detail in the Domestic Court Unit of City of Philadelphia. Later she served in Internal Affairs and the Real Estate Divisions in the Sheriff's Office.

"I am humbled and very proud," said Sostre-Ramos, "to be recognized by the Foundation for the services the Sheriff's Office provides to the community."

Born in Yabuco, Purerto she ran track and field during her high school days. She received her undergraduate degree in social work from Universidad del Sagrado Corazion in P.R. She attended Temple University and was awarded a Deputy Sheriff certificate from Dickinson Law School.

She is a member of the Labor Council for Latin-American Advancement, serves on the annual Puerto Rican Day Parade Committee in Philadelphia and is a Red Cross Volunteer.

For the past seven years the Delaware Valley's Most Influential Latinos Foundation has made its task to recognize individuals who have made great contributions to the Delaware Valley's Latino community and the community at large. This year the awards dinner was held at the Hyatt Regency at Penn's Landing in Philadelphia.