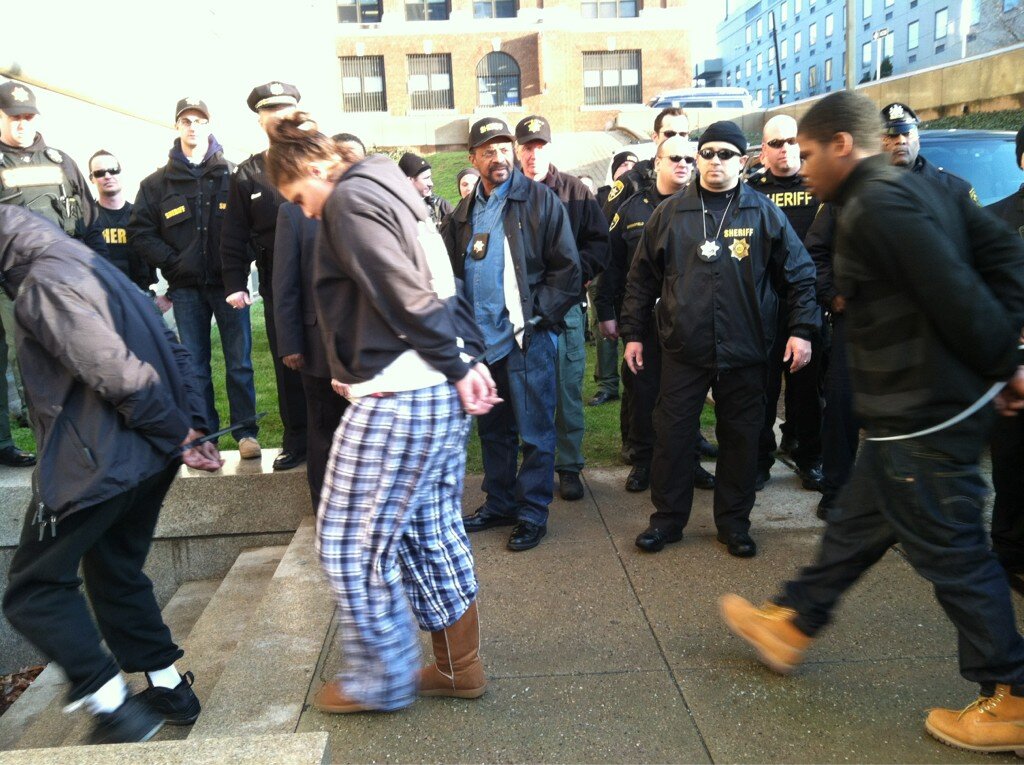 No sweet love and kisses here. Cops woke up 22 fugitives this morning with hand shackles and a ride to jail.
In their 16th annual, predawn Valentine's Day warrant sweep, more than 50 cops fanned out across Philadelphia and its surrounding counties in search of about 300 fugitives wanted on warrants for offenses big and small. They caught 22 of them in the five-hour sweep and hauled them in to Family Court for processing.
"I'm an Afghanistan veteran. Thanks, America!" a shackled fugitive barked at reporters on his way into courthouse. Another shouted expletives at news photographers.
But Philadelphia Sheriff Jewell Williams had little sympathy for the nabbed fugitives, who will get no roses or candy on this day celebrating sweethearts.
"They'll be eating cheese sandwiches today," Williams said. Fugitives "creep around like little rats so they don't get caught. But today, we have taken some bad guys off the street."
Williams noted that his office organizes the sweep every year on Valentine's Day, so "it would seem to me these people should know we're coming."
The fugitives caught were wanted for crimes including robbery, theft, driving under the influence, failure to pay child support and failure to appear in court, Williams said. Sheriff's deputies and other officers from Philadelphia, Bucks, Chester, Delaware and Montgomery counties and Pennsylvania State Police troopers participated in the sweep.
Williams urged fugitives to turn themselves in. Tipsters who know of any fugitives' whereabouts can call deputies at (215) 686-3578.
---
Reported by Dana DiFilippo for the Daily News on February 14, 2013.